Zombie-fied!
Posted Feb 10 2013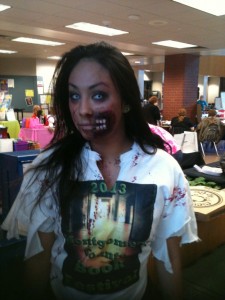 Got woken at 3 AM by a hailstorm, couldn't go back to sleep, and  have been watching the Walking Dead TV marathon ever since.  I have to admit, at first I didn't know what my hubby and kids saw in this show, but now I'm hooked! It's much more than rotting flesh and gore. There's actually some romance and relationship stuff.
I also find myself wondering how I'd do if I were in a post-apocolyptic situation. I think I might do all right. I was a Girl Scout and can improvise a stove out of a coffee can and a candle.  I was also the youngest of 4 kids and learned the art of self defense very early.  When you can't move your arms and legs, a good head butt works every time. 
What about you?  Do you like this show? What skills do you have that might come in handy in a post-apocolyptic world?
(Isnt' this a great photo?  This is from the Montgomery County Book Festival, where they had a makeup artist turn teens into zombies.)