Diane's Latest News
It's Release Day for Fiddling With Fate!
 Hooray! Fiddling With Fate is finally out into the world. I had so much fun writing this book! After moving to Nashville seven years ago, I met a songwriter named Carole and we've become great friends. She's invited me along to several songwriter events in Gatlinburg, Tennessee and we just returned from a fun trip to Dollywood last weekend where we got to see several singer-songwriter shows. So much fun! I feel a little guilty that I killed off a bluegrass singer-songwriter in the book! Haha! I hope you enjoy the story!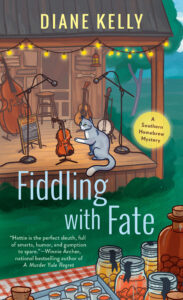 Little Shop of Murders is up for Pre-Order!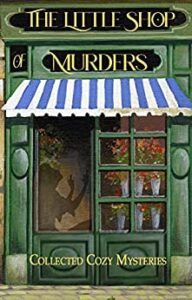 Little Shop of Murders is now up for pre-order!
Read great stories & support children's charities!

Book shops, boutiques and small businesses are the lifeblood of small towns but what secrets lie behind those pretty display windows and in the alleyways behind these charming streets?
Step inside for a personal retail experience like no other!
'The Little Shop of Murders' collects together fifteen superb cozy mysteries written by some of the finest authors in the genre.
All author and publisher profits from the sale of this book go to children's charities, helping those most in need.

The anthology releases on April 1st and contains the following stories:

Don't Toy with Me by Diane Kelly
A Man With No Imagination by Millie Ravensworth
The Forget-Me-Not Antiques Mystery by Victoria Tait
It Was Our Song by Nikki Knight
Always and Furever by Eryn Scott
Wild Irish Dreams by Lise McClendon
Architect of a Murder by Carlene O'Connor
Blooms and Blackmail by London Lovett
Secondhand Murder by J. New
The Lady of the House by Flora McGowan
Requiem for a Violin by Geraldine Moorkens Byrne
Nightly Nuisance by Kathryn Mykel
The Gift of Dragons by ACF Bookens
Nowhere to Hide by Debbie Young
Murder in the Bookshop by Rachel McLean

Kindle version available for pre-order now at:
Snow Place for Murder
Noir at the Bar – Yonder Bar, Hillsborough NC Thursday Dec. 15th at 7:00
If you live in central North Carolina (or even if you don't!), come see me and these other great authors at Noir at the Bar on Thursday, Dec. 15th at 7:00. Thanks to author/filmmaker/podcaster/barkeep Eryk Pruitt for inviting me to be part of this always-fun event again! Yonder Bar is located at 114 W. King Street in Hillsborough, NC's historic district and they make great drinks. Be there or be on Santa's naughty list. ; ) More about Yonder Bar at: Yonder Bar
Sixty Free Books for You!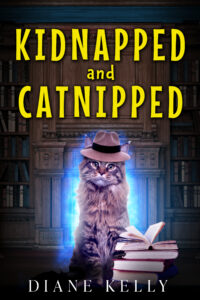 Who likes free books? Me, too! Claim this free book by yours truly, along with as many of 59 others as you'd like, at Prolific Works!
After her tabby alerts her to suspicious activity next door, a college students finds her elderly neighbor non-responsive, the bedroom ransacked, and the woman's beloved cat missing. Was it a burglary gone awry, or something much more sinister? Can she track down the clues and bring the prissy Persian back home?
Nov. 5th Writers Workshop in Hillsborough, NC!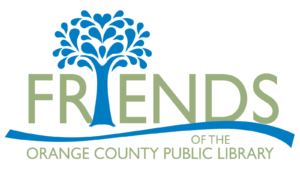 FROM PREMISE TO PUBLICATION: A WRITING WORKSHOP BY LOCAL AUTHORS
Join local authors as they discuss different aspects of writing, from the bones of an idea to the process of publication. Writers age 13 and up welcome. The workshop will be held Saturday, November 5th from 2:00 – 5:00 at the Orange County Public Library, 137 W. Margaret Lane in Hillsborough. Hosted by the Friends of the Orange County Public Library!
Panelists and topics include:
Melissa Bourbon – The Hero's Journey
Samantha Dunaway Bryant – Writing for Anthologies
Diane Kelly – Publishing Options: You've Finished Your Book. Now What?
James Maxey – Your Book is Only Two Words Long
Eryk Pruitt – Slaughtering our Enemies and Killing our Darlings
Lynn Chandler Willis – Characterization: Good Guys, Bad Guys, and the Ones in Between 
Book Festival This Weekend in Winston-Salem!

Do you live within driving distance of Winston-Salem, North Carolina? If so, come to Booth #7 at the Bookmarks Book Festival this Saturday and chat with me! I'd love to meet you in person! I'll be at the booth from 10:00 – 5:00. Our booth will be on Holly Avenue near the intersection with Poplar Street.
Hot Off the Press Interview
Check out this fun discussion of new books hosted by Con-Tinual! I talk about my upcoming June 7th release, The Proof is in the Poison, book #2 in my Southern Homebrew Series.
Hot Off the Press – ConTinual
Visit With Me at Jungle Red Writers!
I'm at the Jungle Red Writers' site today talking about the building that inspired the plot in my new release, Batten Down the Belfry. Come over and chat with us! Here's the link: Jungle Red Writers
Big thanks to Jenn McKinlay for inviting me to post! You'll find more about Jenn's great books at: Jenn's Website