Diane's Latest News
Snow Place for Murder
Noir at the Bar – Yonder Bar, Hillsborough NC Thursday Dec. 15th at 7:00
If you live in central North Carolina (or even if you don't!), come see me and these other great authors at Noir at the Bar on Thursday, Dec. 15th at 7:00. Thanks to author/filmmaker/podcaster/barkeep Eryk Pruitt for inviting me to be part of this always-fun event again! Yonder Bar is located at 114 W. King Street in Hillsborough, NC's historic district and they make great drinks. Be there or be on Santa's naughty list. ; ) More about Yonder Bar at: Yonder Bar
Sixty Free Books for You!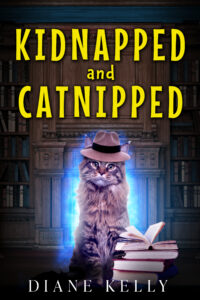 Who likes free books? Me, too! Claim this free book by yours truly, along with as many of 59 others as you'd like, at Prolific Works!
After her tabby alerts her to suspicious activity next door, a college students finds her elderly neighbor non-responsive, the bedroom ransacked, and the woman's beloved cat missing. Was it a burglary gone awry, or something much more sinister? Can she track down the clues and bring the prissy Persian back home?
Nov. 5th Writers Workshop in Hillsborough, NC!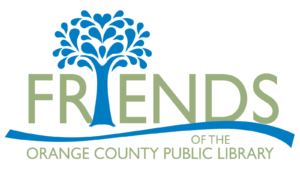 FROM PREMISE TO PUBLICATION: A WRITING WORKSHOP BY LOCAL AUTHORS
Join local authors as they discuss different aspects of writing, from the bones of an idea to the process of publication. Writers age 13 and up welcome. The workshop will be held Saturday, November 5th from 2:00 – 5:00 at the Orange County Public Library, 137 W. Margaret Lane in Hillsborough. Hosted by the Friends of the Orange County Public Library!
Panelists and topics include:
Melissa Bourbon – The Hero's Journey
Samantha Dunaway Bryant – Writing for Anthologies
Diane Kelly – Publishing Options: You've Finished Your Book. Now What?
James Maxey – Your Book is Only Two Words Long
Eryk Pruitt – Slaughtering our Enemies and Killing our Darlings
Lynn Chandler Willis – Characterization: Good Guys, Bad Guys, and the Ones in Between 
Book Festival This Weekend in Winston-Salem!

Do you live within driving distance of Winston-Salem, North Carolina? If so, come to Booth #7 at the Bookmarks Book Festival this Saturday and chat with me! I'd love to meet you in person! I'll be at the booth from 10:00 – 5:00. Our booth will be on Holly Avenue near the intersection with Poplar Street.
Hot Off the Press Interview
Check out this fun discussion of new books hosted by Con-Tinual! I talk about my upcoming June 7th release, The Proof is in the Poison, book #2 in my Southern Homebrew Series.
Hot Off the Press – ConTinual
Visit With Me at Jungle Red Writers!
I'm at the Jungle Red Writers' site today talking about the building that inspired the plot in my new release, Batten Down the Belfry. Come over and chat with us! Here's the link: Jungle Red Writers
Big thanks to Jenn McKinlay for inviting me to post! You'll find more about Jenn's great books at: Jenn's Website

Hooray! Batten Down the Belfry Releases Today!
I'm thrilled that book #4 in my House Flipper series is now out in the world! I had so much fun writing this book. The idea stemmed from the many tours I took of the Ryman Auditorium when I lived in Nashville. The venue was built to be a church – hence the great acoustics – but was later repurposed into an entertainment venue and managed to great success by a businesswoman named Lula Naff. It was fun to turn the abandoned country church in the book into a playhouse as well. I've also always loved stained glass as an art form. It's both beautiful and functional. It was fun to use this design element in the remodel. I hope you'll love the book! And if you've got time to write a review, they will be very appreciated. Thanks!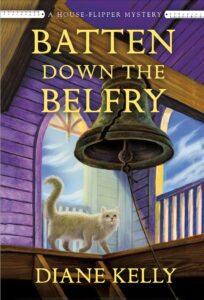 Revised Book Release Date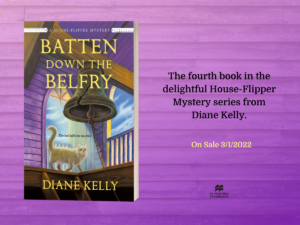 FOR WHOM THE BELLS TOLL . . .
Today was the originally scheduled release day for Batten Down the Belfry, the 4th in my House Flipper series. Due to a fire at the printer, the production of some of the paperbacks was delayed and my publisher moved the official release date back a week to March 1st. Fortunately, several readers have told me that they were able to get copies they'd pre-ordered, or that their local bookstore had some of the books in stock. Yay! But if you are not able to find the book today, please check back next Tuesday!
Author Takeover at Cozy Mystery Launch Party – Today!
Be sure to stop by the Cozy Mystery Launch Party Facebook page today! I'll be having an author takeover from 2:00 – 3:00 eastern time. Comment on Post #4 for a chance to win a copy of Batten Down the Belfry!