The Dog Blog – First Pets
Posted Sep 4 2015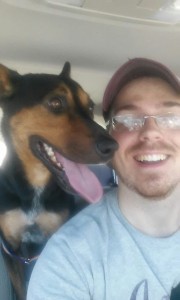 My nephew recently graduated from college (an engineering degree, no less!), moved to a new apartment in a different city, and got his first real job. He also became a daddy! Well, a doggy daddy, anyway, which is plenty for now. Here he is with Buddy, his adorable new BFF that he adopted at an animal shelter. The two are sure to have a lot of fun sharing their bachelor pad!
While many of us grew up with family pets that we loved dearly, there's something extra special about the first pet that we adopt on our own as adults. Getting the first pet that is ours and ours only, for which we alone have full responsibility, is an exciting and fun rite of passage.
My first pets were a Siamese cat named Stir-Fry who'd wandered up to the apartment of my then-boyfriend (now husband) in Austin, Texas. He lived as an indoor-outdoor cat there for a while, before I decided he should move to Houston with me and Schultz, a Dachshund mix I'd adopted from a shelter. I shared an apartment with my two "boys" and it was a great arrangement. They kept me company while I watched TV on my couch, and I'd snuggle between the two of them in bed at night. After work, I'd take Schultz out to swim in the apartment pool with me. The only other tenant who used the pool was a thirtyish guy with a black lab, who'd hang out and swim with us. Luckily, nobody ever complained or reported us for bringing our dogs in the pool.
Stir-Fry and Schultz are long gone now, but live on in my memories. Do you have fun memories of your first pet? Share them here for a chance to win one of five print or electronic copies of any book in my Paw Enforcement series! Winners announced Monday, Sept. 13th.