Oodles of Fun!
Posted May 9 2014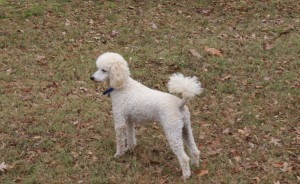 This poodle belongs to author Becke Turner. She and her husband adopted Sammy, a Moyen Poodle, from the Carolina Poodle Rescue. She says he's a perfect pet and they wonder why anyone would have dropped him off at the Tennessee shelter. However, they're very glad they did!
You can learn more about Becke at her website!
Thanks, Becke, for sharing Sammy with us!