My Recent Escape to Weymouth
Posted Oct 24 2019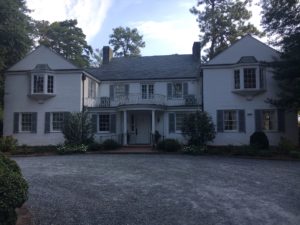 Being a novelist is an odd profession. There are few jobs that can be best done when hiding out from the world, but writing is one of them. Solitude and the elimination of distractions enables a writer's mind to focus.
In early October, I stayed for a week at a writers-in-residence program at the beautiful and charming Weymouth Center for the Arts and Humanities in Southern Pines, North Carolina. What a wonderful experience! The room was comfortable, the weather was perfect, and the house had a large balcony with padded furniture that was the perfect outdoor writing spot for me. The grounds included several miles of hiking paths, so I had easy access to walk and think over my ideas before I sat down at the computer. Thanks to a fellow writer who'd stayed at Weymouth several times, I discovered some great local restaurants, including a fun pub that makes a mean Moscow mule. I hiked the trail around the reservoir in town, and also visited the gardens at Sandhills Community College, which were absolutely gorgeous. I definitely recommend seeing them if you're ever in the area. They had several sections, including a zen garden, an agricultural area, and a children's area complete with a playhouse and musical instruments.
While at Weymouth, I plotted out the next book in my Paw Enforcement series and made lots of headway. I hope to return to Weymouth in the spring and enjoy another productive visit!
What's been your best working vacation? I'd love to hear about it!