My Editor's Pet Pics!
Posted May 2 2014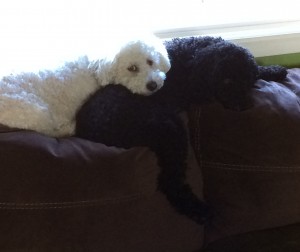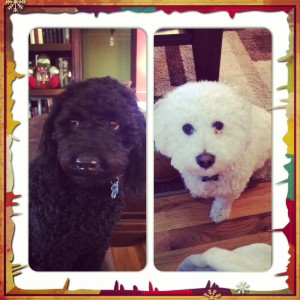 These adorable dogs belong to my brilliant editor, Holly Ingraham! The white one is Ninja, and the black one is Phantom. Holly is convinced Ninja was human in a former life – he likes to lay his head on pillows, huffs at you when he's annoyed, and puts himself to bed at 9:30pm every day. Holly says that the older he gets, the more of a social butterfly he becomes when it comes to visitors, but getting a kiss from Ninja takes a special kind of person. I'm betting Holly is special enough to warrant lots of kisses. ; )
Phantom is ALL dog. He looks like a pony when he runs, has his own huge toy basket that he doesn't like to share from, and brings a "teddy bone" to bed every night. He has a loud bark, but is terrified of everything, especially new people. He gives awkward kisses (kind of just sets his tongue on you for a few seconds).  I bet Holly gets lots of those awkward kisses, too!
 Ninja and Phantom are best friends and get upset if they are separated. They like to chase after/bark at cats, neighborhood dogs and the occasional groundhog.  
 They make me feel like singing"Ebony and Ivory." Cuties!