Meet Book Blogger Kerrin Parris!
Posted Oct 5 2021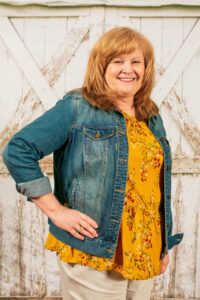 Today, I'd like to introduce you to my friend and former coworker/officemate Kerrin Parris. Kerrin has been one of my biggest encouragers in my writing career, both before I got published and after. Kerrin gave me story suggestions and title ideas. Some were tongue in cheek, a little naughty, and made me laugh! Yep, we share an offbeat sense of humor. No wonder we clicked when we met! 
Even though we no longer live in the same state, I was lucky to get to spend some time with her recently on a girls' trip to the mountains. We had a lot of fun reconnecting! She's enjoying retirement and devoting lots of time to reading and reviewing books. She posts both her thoughts and great recipes on her Books and Recipes site. Be sure to check out her book reviews for recommendations, and read on to learn more about this reading and reviewing redhead with the lush pumpkin-spice hair.  
Diane: What drew you to becoming a book reviewer and blogger?
Kerrin: I am a big fan of the website Goodreads. I would see reviews from people of books that had not yet been published, so I was curious as to how they could get them.  I found two websites, NetGalley.com and Edelweiss.plus that offer advanced reader copies. In order to better your chances of being approved for a book, it is recommended to have a blog. Since I started blogging in 2019, I have gotten almost 70 advanced reader copies in exchange for my agreement to write reviews on or before the publication date. 
 
Diane: What do you think makes a book exceptional?
Kerrin: The best qualities of a book are ones that teach me something new and have characters that I care about. Those are the ones I remember long after I have finished. My favorite quote is by Jane Austen: "But for my own part, if a book is well written, I always find it too short."
Diane: What book has surprised you the most and in what way?
Kerrin: I am a big fan of historical fiction and decided to read The World That We Knew by Alice Hoffman.  This is no ordinary World War II novel because one of the characters is a Golem.  I don't typically enjoy fantasy novels so I was surprised at how much I enjoyed reading about a mythical Jewish clay figure brought to life by magic.  I love to recommend this novel to everyone.
Diane: How many hours each day or week do you spend reading, and how do you find or make the time needed to read and review so many books? 
Kerrin: I don't have a set amount of time for reading.  I have a spreadsheet that lists my advanced reader copies and the publication dates.   If I get behind on my schedule, I will devote more time to reading.  I typically read 6 to 7 books a month.  I especially enjoy audiobooks so I can listen while doing other things.
(Diane: As a former accountant, Kerrin had me at "spreadsheets." Haha!)
Diane: When did you discover that you loved books? Was it when you were a child, or was it later in life? Was there a particular book or event that made you realize you were a book person?   
Kerrin: I loved reading Nancy Drew and The Hardy Boys as a child.  I got away from reading as a teenager and didn't pick it back up until my children were older.  My favorite movie is To Kill A Mockingbird.  I didn't read the novel until I was in my late 30s and had seen the movie numerous times.  As much as I love the movie, I discovered that the book was 10 times better.  It is the book that made me a confirmed book person.  I will reread it at least once every five years.  I highly recommend the audiobook narrated by Sissy Spacek.
More about Kerrin, in her own words: I grew up in Memphis, Tennessee during the heyday of the Civil Rights Movement and Elvis' rule as the King. After graduating from Memphis State University (now the University of Memphis) with a BBA (80) and a JD (83), I married Steve, my law school sweetheart, in 1983. We lived in Columbia, Tennessee, where our two children were born, then moved to Texas in 1991. I am now a widow. I recently retired after being Of Counsel at Ross & Matthews, P.C. in Fort Worth, Texas for over 28 years.