Join Me on The Moonshine Shack Murder Blog Tour!
Posted Jul 5 2021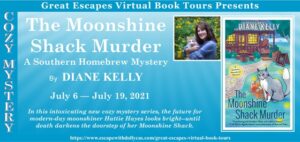 I'm thrilled to be hosted or featured on so many great blogs this month!
I hope you'll join me on my tour! You'll learn lots about the book and the characters, as well as some fascinating things about moonshine and its storied history. You'll even get some recipes that include moonshine. So be sure to check in each day!
THE MOONSHINE SHACK MURDER TOUR PARTICIPANTS 
July 6 – Author Elena Taylor's Blog – AUTHOR INTERVIEW 
July 6 – Christy's Cozy Corners – CHARACTER GUEST POST
July 7 – Escape With Dollycas Into A Good Book – REVIEW 
July 7 – Baroness' Book Trove – REVIEW 
July 8 – Novels Alive – GUEST POST
July 8 – MJB Reviewers – SPOTLIGHT
July 9 – The Avid Reader – REVIEW, RECIPE
July 9 – Novels Alive – REVIEW 
July 10 – Literary Gold – SPOTLIGHT 
July 10 – I Read What You Write – CHARACTER GUEST POST
July 11 – Cozy Up With Kathy – REVIEW, AUTHOR INTERVIEW
July 11 – Books a Plenty Book Reviews – REVIEW, CHARACTER INTERVIEW
July 12 – FUONLYKNEW – SPOTLIGHT 
July 12 – Sneaky the Library Cat's Blog – CHARACTER INTERVIEW 
July 13 – Mysteries with Character – AUTHOR INTERVIEW 
July 13 – Celticlady's Reviews – SPOTLIGHT 
July 14 – Mochas, Mysteries and Meows – CHARACTER INTERVIEW 
July 14 – My Reading Journeys – REVIEW 
July 15 – Ascroft, eh? – GUEST POST
July 15 – #BRVL Book Review Virginia Lee Blog – SPOTLIGHT 
July 16 – Diane Reviews Books – REVIEW, CHARACTER GUEST POST
July 16 – ebook addicts – SPOTLIGHT 
July 17 – Socrates Book Reviews – REVIEW 
July 17 – Brooke Blogs – SPOTLIGHT, RECIPE
July 18 – Sapphyria's Book Reviews – SPOTLIGHT 
July 18 – Maureen's Musings – SPOTLIGHT
July 19 – StoreyBook Reviews – REVIEW 
July 19 – Melina's Book Blog – REVIEW 
July 19 – BookishKelly2020 – SPOTLIGHT