It's Take-You-There Tuesday!
Posted Feb 16 2021
It's Take-You-There Tuesday!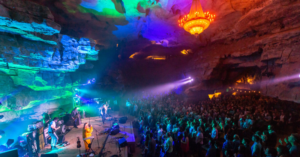 Today, I'm taking you underground in McMinville, Tennessee to the Volcano Room at the Cumberland Caverns. I mention this unique music venue in my recent releases Murder With a View. I can't claim to have ever gone here myself, but it's definitely on my bucket list to go to a concert here someday. The venue evidently has great acoustics, thanks not to any grand human design, but to Mother Nature herself. Want to learn more? Visit Cumberland Caverns Live.
Do you like caves? What are some of your favorite caves?