Ice, Ice Baby!
Posted Dec 4 2013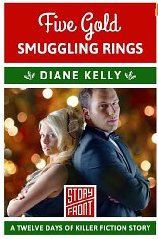 Just released!
Heat up your holidays with some spicy romance and heart-pounding suspense!
After receiving a tip from an unnamed source, rookie ICE agent Angelika Dietrich gets her first real case. Things quickly steam up when she's paired with her secret crush, Javier Carrasco, a veteran agent as sexy as he is stoic. Javier won't be an easy nut to crack, but if anyone can do it, it's the bold, brassy, six-foot-one Angelika—an ass-kicking tornado of a woman. With a wicked sense of humor and a heart as big as her size-eleven stilettos, Angelika will have you cheering for her to capture the bad guys and Javier's heart.
This novella is available exclusively for Amazon Kindle at only $1.99!
http://www.amazon.com/Five-Gold-Smuggling-Rings-Christmas-ebook/dp/B00GMTVZZC/ref=sr_1_14?ie=UTF8&qid=1386197757&sr=8-14&keywords=diane+kelly