Holly the Lab/Boxer!
Posted May 1 2014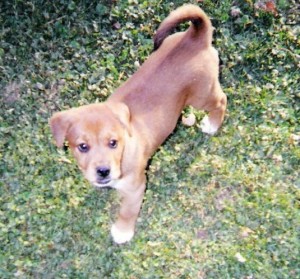 Holly is a rescue from the ASPCA. The older sister of Holly's owner, Lisa, saw an article in the local paper with the headline "The Busy Boxer". It seems Holly's daddy not only had a litter with Holly's Black Lab mommy, but also with another dog. So Holly is the daughter of a local celebrity. What a "hound" her daddy was, huh? ; )
In November Holly and Lisa moved into a much larger house. Holly seems to think it's a doggy playground. She will run from one end of the house to the other, and does what Lisa calls her "evening patrols." She disappears for a few minutes and the suddenly Lisa will hear what sounds like a herd of buffalo come running to the living room and she's back.
She's also a morning dog. She'll come up beside the bed and lay her head on it and stare at Lisa until she wakes up. Lisa says that when she opens her eyes Holly smiles and then starts running. Sometimes she forgets she's not a puppy. 
She is very well love and spoiled!  Thanks for the fun photos, Lisa!