Enjoy this Interview with Connie Berry About The Shadow of Memory
Posted May 14 2022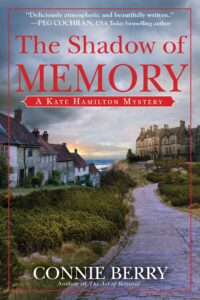 Author Connie Berry's latest book, The Shadow of Memory, just released. We met through our writing networks last year, and I know you'll love her books! Here's a fun interview with her about the book:
Diane: A sanitorium is a unique, intriguing, and potentially eerie setting for a rehab. Makes me think of One Flew Over the Cuckoo's Nest, Shutter Island, and K-Pax, all of which were absolutely engrossing. Why did you choose a Victorian insane asylum on the Suffolk coast as a setting for The Shadow of Memory?
Connie: Abandoned buildings in general are eerie, aren't they? The idea came from Bill Bryson's account in The Road to Little Dribbling about working in mental hospital where the most of the inmates were allowed freedom to walk the grounds and even wander into the nearby village. When I did some research, I learned that in the mid-nineteenth century, a number of private mental hospitals were built in Britain along the lines of a new French theory—"cure by distraction," that claimed mental illness could be healed by providing patients with restful, peaceful, and aesthetically pleasing surroundings. Instead of looking like hospitals, these sanitoriums resembled grand country houses or five-star hotels. Every possible amenity was available—theaters, swimming pools, tennis courts, billiards rooms, hairdressing salons, Turkish baths. One of these hospitals, Craighouse near Edinburgh, was possibly the most luxurious mental hospital ever built in Britain. Like Bryson's Holloway Sanitorium and like my fictional Netherfield, Craighouse is now an upscale housing estate. What appealed to me as a writer was the layering of the past and present. History never disappears; it just goes deeper. That's what The Shadow of Memory is about—the past returning to change the present.
Diane: Such great suspense with the idea of a group of friends being systematically killed because of something they might have witness or learned when they were teens. We often can't make sense of things we experience as children. And memories are often unreliable. Where did this idea originate for you?
Connie: The Shadow of Memory features not only the old mental hospital but also a nearby abandoned "Steamship Moderne" house (picture the late Art Deco houses in TV's Poirot series). In this case, the house was abandoned suddenly, the inhabitants leaving everything in place, exactly as it was that day. Why did they leave? And where did the blood come from? The group of friends, as children, tried to solve the mystery. Now, as adults, someone is targeting them. This idea came originally from an experience I had a child, visiting my Scottish grandparents in Buffalo. There was an abandoned floral shop near their house, abandoned by its owner when his wife died. He just closed the door and locked it, leaving everything behind, including dead and blackened flower arrangements in the window. I was absolutely fascinated with the idea of a "capsule in time." Going inside would be like visiting the past. Then in 2002, I heard a program on NPR's "This American Life" about several boys who spent a summer exploring an abandoned house in New Hampshire. These two experiences came back to me when I was planning The Shadow of Memory.