Doggie Stylin'!
Posted May 10 2014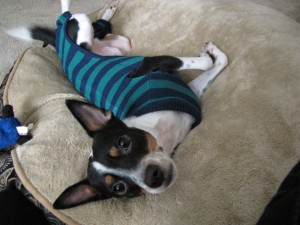 Today's dog joke:
Q: How is a dog and a marine biologist alike?
A: One wags a tail and the other tags a whale.
And now for more puppy love!  This is Berkeley, a Basenji and the beloved pet of my good writing buddy, Hadley Holt. Berkeley had been returned to the animal shelter at least twice by prior owners, but he's got his permanent home with Hadley now. Hadley says Berkeley thinks he is part cat because he acts as if he's the undisputed king of the world and she is but his humble servant.  And obviously this dog has style. That sweater looks great! Thanks for sharing, Hadley!
If you'd like to read about Hadley and her books, you can find her on Facebook as "Hadley Holt Author", on Twitter at @Hadley_Holt, and at her website www.HadleyHolt.com!