Delightful Day in Derby!
Posted Apr 16 2012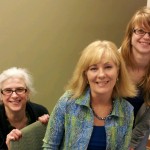 I had a wonderful time Saturday in Derby, Kansas!  Met lots of great folks, including this mother-daughter pair.  Do I have the best-looking fans or what? 
The staff at the Derby library were very welcoming and gracious hosts.  I appreciate all their work on the event!  As an added bonus, they took me to the Watermark Bookstore for lunch.  Great food named after literary masterpieces and a very quaint store.  Be sure to check it out if you're ever in the Derby area.  http://www.watermarkbooks.com/
I have to admit that I'm suffering extreme library envy after seeing the Derby facility.  Lots of computers, video games for checkout, big-screen televisions, a totally rockin' teen area, not to mention lots of great books, of course – the place has it all!  The people of Derby are lucky to have such a wonderful library facility along with hard-working staff who are clearly dedicated to making sure their library provides great diversity in resources.