Awesome Weekend!
Posted Nov 7 2011
What a great weekend!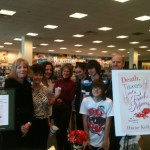 It kicked off with the always fun "Mansfield Writes" writing workshop at the Mansfield Public Library Friday night.  Met lots of great authors and aspiring writers at the event!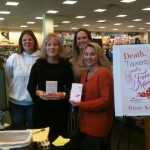 On Saturday, I had my first book signing at Barnes & Noble.  The store staff were great and made me feel very welcome.  It was a great crowd of family, friends, and new readers, too!  A group of IRS Special Agents came, too!  So cool!  I was very flattered.  Talking with the agents was such fun!  I was very impressed when I met them several years ago while doing research for my books, and I knew that a woman like them – smart, tough, and attractive – would make the perfect heroine for a mystery series.  
Thanks to everyone who came to my signing!