Primer and Punishment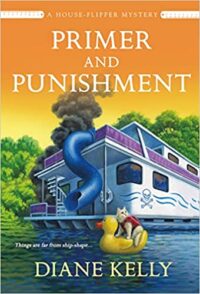 Read the Excerpt
Chapter One – All Decked Out
Whitney Whitaker
On a Saturday morning in mid-April, I sat at the breakfast bar in the kitchen of the cottage my cousin Buck and I had rehabbed a while back, the place I now called home. We'd originally planned to flip the cottage but, due to some unforeseeable circumstances (a body in the flowerbed), we'd been unable to sell the property for a reasonable price and decided to hang on to it for the time being. I'd happily moved out of the cramped converted pool house behind my parents' home and into the much roomier cottage, which allowed me to stretch both my legs and my wings.
My blonde hair was pulled up in a sloppy ponytail to keep it out of my face while I drank my coffee and scrolled through the local real estate listings on my laptop, looking for our next potential flip project. With the Nashville real estate market booming, bidding wars were common and many houses sold for over the asking price. Even fixer-uppers commanded a high price these days. I sighed as I scrolled past yet another overpriced dwelling. Maybe the heyday of house flipping has come to an end.
My sweet buff-colored cat, Sawdust, sat on the kitchen counter watching Colette, who was both my best friend and my roommate, prepare cranberry scones. Colette was a professional chef and had recently launched her first restaurant, the Collection Plate Café. The café was housed in a repurposed parsonage that sat on the same grounds as the Joyful Noise Playhouse, a former country church Buck and I had turned into an entertainment venue. The Collection Plate was the perfect pre-show eatery, as well as a great place for the audience to have dessert and coffee after seeing a performance. Colette also served a wonderful Sunday brunch. She'd hired our other roommate, Emmalee, to serve as her assistant manager. Having worked the late shift at the restaurant last night, Emmalee still dozed in her bedroom down the hall.
The morning sun shined through the kitchen window and glinted off Colette's engagement ring. The ring featured a traditional round stone, around 1 carat, in a simple yet sophisticated 14k gold setting. Tastefully elegant and not gaudy, much like Colette herself.
A quick, soft knock came at the front door—rap-rap-rap—but it was merely a courtesy gesture. A second later, we heard a key in the lock and in came my cousin Buck, who also happened to be the guy who'd put that ring on Colette's finger. Like me, Buck was tall, blond-haired, and blue-eyed, though he sported a full beard, broad shoulders, and strong muscles developed from years working in carpentry.
A grin on his face, he proceeded into the kitchen. "Hey, babe." He wrapped his arms around Colette from behind and she turned her head up with a doe-eyed smile to accept his kiss on her cheek.
"Ewww!" I teased. "Don't let him kiss you again, Colette. He's got cooties!"
Having greeted the love of his life, Buck turned to me, "Hey, Cuz."
I raised my coffee cup in response and took a gulp of the warm brew.
Buck poured himself a cup and dropped into a seat at the table across from me. "You can put your laptop away. I found the perfect property for our next project."
"Oh, yeah?" I closed the computer, glad he'd discovered a prospect since I'd found squat online. "Tell me more."
"It's a three -bedroom, two bath."
That number of bedrooms and bathrooms would appeal to a variety of buyers. Growing families; older couples downsizing from larger family homes as their nests emptied; single people who'd use one of the bedrooms for guests and the other for an office, or who might share the home with a roommate. "What about the outdoor spaces?"
A grin played about his lips. "It's got a two-story deck."
"Nice." The buyers would have two levels on which to relax and enjoy themselves outside. "Square footage?"
He looked up, as if performing math in his head. "Around six hundred."
Colette looked over from rolling out the scone dough. "Did you say six-hundred square feet? How in the world can three bedrooms and two baths fit into that small a space?"
I wondered the same thing. I looked from her to Buck and took a guess. "It's a tiny house, right?"
"Not exactly. You'll see. I'll take you there."
He continued to grin but would say no more.
While the scones baked, Colette and I hurriedly cleaned up and dressed, curious about this potential new project.
Colette packed up a basket of scones for us to eat in the car, and we headed out to my red Honda SUV. Buck slid into the passenger seat, while Colette climbed into the back.
I shoved one of the pastry triangles into my mouth and held it between my teeth, speaking around it as I buckled my seatbelt. "Where to?" I asked my cousin.
He directed me to head north on Interstate 65. I started my engine and off we went. We ate the delicious scones, sipped our coffee, and cruised up the freeway.
After about ten miles, he pointed to the sign for Exit 95. "Take this exit."
I exited and took a right turn onto State Route 386. After another three miles, he instructed me to take the exit for Hendersonville. Soon, we rode up on Old Hickory Lake, catching glimpses of the sparkling water through the trees. The lake had been formed decades ago, when dams had been placed along the Cumberland River. I unrolled my window an inch or two. The wind blew in, bringing the smell of lake water with it and opening a floodgate of happy memories. When I was young, my parents often took fancy European trips in the summer. Not the type of thing a young girl would enjoy. They'd leave me in the care of my aunt Nancy and uncle Roger, Buck's parents. Uncle Roger would round up some inner tubes for all of us, Aunt Nancy would pack the cooler with orange soda and peanut butter and jelly sandwiches, and we'd drive down here to Old Hickory Lake. Buck, his brother Owen, and I would spend the day floating and playing around on the water, while Uncle Roger fished and Aunt Nancy lounged in the shade with a romance novel. Those days at the lake were some of the happiest from my childhood.
I cast a glance at my cousin. "Is the property a lake house?"
A vacation home would explain the relatively small square footage. Secondary homes were often much smaller than primary homes, especially in areas where people would be spending most of their time outside, such as in the mountains or near a lake.
"Exactly."
His eyes glittered with mischief, telling me there was more to the story but that he wasn't going to share it yet. I suppose I'll find out soon enough.
We passed an old convenience store called the Get-N-Git. Hand-lettered signs in the windows of the aged building advertised its wares. Bait & tackle. Floats. Swimsuits. Snacks. Drinks. Beer. Souvineers. Whoever made that last sign could've used some help from a dictionary or spell check, although the misspelling did give the place some folksy charm. Racks in front of the store held fishing rods, foam pool noodles, inflatable toys, and colorful beach towels. A locked freezer for bagged ice stood outside next to the entrance. With summer having yet to arrive, business was slow and only a single car sat in front of the shop.
We continued on for another half mile before Buck pointed to a sign for a private marina. "Pull in there."
Colette and I exchanged a glance in the rearview mirror.
Buck is up to something. We both knew it. We just didn't know what, exactly.