Paw of the Jungle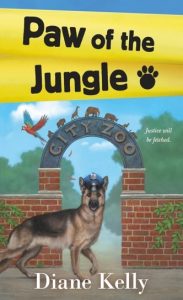 About the Book
Police officer Megan Luz and her K-9 partner in crime, Brigit, are on all fours as they try to solve their latest mystery.
The weather is beautiful, work is slow, and her canine colleague could use a walk. What better day for Megan to take Brigit to the Fort Worth Zoo? But what begins as a fun field trip turns serious when a pair of rare hyacinth macaws goes missing. Is the new custodian, a gentle soul who happens to be an ex-convict, to blame for their escape? Or is something far more sinister afoot?
The birds are worth thousands of dollars, and the list of people who might have stolen them is long. Soon other animals start disappearing, and Megan and Brigit have their hands and paws full of suspects. But when a rare black rhino is taken from the zoo, presumably for the black-market horn trade, time is of the essence. Can Megan and Brigit find out who's behind the thefts―before they too become prey?