Orlando, Florida Book Signing – Saturday, July 29th!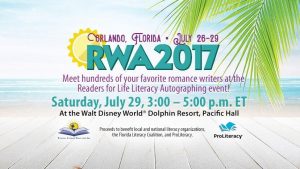 Come see me and hundreds of other romance authors at the Romance Writers of America Readers for Life book signing for literacy! You'll get lots of great books and support a wonderful cause.
The event will held on Saturday, July 29th from 3:00 – 5:00 PM at the Pacific Hall in the Walt Disney World Dolphin resort. More details can be found here: RWA Book Signing Info
Hope to see you there!