Death, Taxes, and a Skinny No-Whip Latte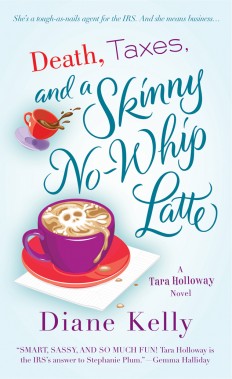 About the Book
IRS Special Agent Tara Holloway is at work again.  This time, she and her partner, Eddie, are after Marcos Mendoza, a financial expert and suspected loan shark with cross-border ties to questionable businesses and people in Mexico. Mendoza hasn't just cheated the U.S and Mexican governments, he may have left a trail of bodies, too. Neither the Texas Rangers nor the FBI could prove a link between Mendoza and the suspicious deaths of his employees and associates, but the sheer number of bodies indicates the deaths aren't mere coincidence.  What's more, Mendoza bought off Special Agent Nick Pratt, who'd earlier been assigned to the investigation, and set the traitor up in a luxury condominium in Cancún, Mexico.
He must be stopped.
Unfortunately, Mendoza is as elusive as his activities are illegal. Tracking down this tax cheat proves much more difficult, and more dangerous, than Tara anticipated.  Given the highly sensitive nature of the case, Tara is forbidden to disclose the details to anyone, including her boyfriend, Brett Ellington. Secrets nearly tore the two apart in the past and history seems destined to repeat itself.
As Tara and Eddie delve deeper into Mendoza's business enterprises, they realize his illegal activities extend far beyond high-interest finance. They also learn Mendoza will do anything to protect the profitable illegal empire he has created.
When Tara receives an unexpected call from a surprising source, she must decide whether to follow orders or follow through. Tara must risk it all—her relationship with Brett, her job, and her life itself—to put Mendoza out of business for good.