Death, Taxes, and a French Manicure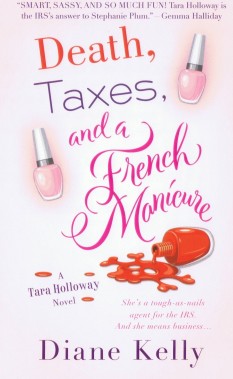 About the Book
Watch out tax cheats.  The Treasury's Criminal Investigations Division has a new special agent on its payroll.  CPA Tara Holloway has traded in her adding machine for a shiny new Glock.  Now she's kicking ass, taking social security numbers, and keeping the world safe for honest taxpayers. If her career isn't enough to keep her busy, Tara's hooked up with a new boyfriend, Brett Ellington.  He's sweet, sexy, and successful.  What more could a girl ask for?
On her first undercover mission, Tara's in hot pursuit of an ice cream man selling street drugs along with the frozen treats and failing to report his ill-gotten gains on his tax returns.  Latina-debutante-turned DEA Agent Christina Marquez works with Tara to melt the ice cream man's defenses.  Tara's also set her sights a sleazy con artist defrauding unwary investors through a Bernie Madoff-style investment scam. With her love life in high gear and her career on the fast track, Tara should be ecstatic.  But two major problems stand in the way. 
First, Tara hasn't been completely honest with Brett about her work.  Could he handle knowing she packed heat?  Would he stick around if he knew she spent her days on the wrong side of the tracks trying to bust a dope-dealing scumbag?  Second, Tara suspects Brett may be involved in the investment scam she's investigating.  Nothing like the possibility of hauling your boyfriend off to the klink to put a damper on a relationship, huh?