Bending the Paw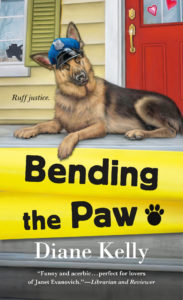 About the Book
Make way for the long paw of the law as police officer Megan Luz and her K-9 partner Brigit investigate a baffling new mystery.
A MURDER WITHOUT A BODY IS LIKE A DOG WITHOUT A BONE
A bloodbath is a shocking new challenge for Megan and Brigit when Detective Audrey Jackson calls them to the scene of what could only be a brutal murder. But the one thing the nightmarish scene is missing is a victim. The frantic homeowner's husband is gone, seemingly without a trace―and so is the money he was holding. Has a vicious killer committed what might just be the perfect crime?
Meanwhile, it's hailing cats and dogs all over Fort Worth, and roofing contractors have descended on the city in droves. With plenty of damage and continuing storms, work delays are building up like so much runoff, but Megan is suspicious that one roofer may be a scam artist. Determined to leash every lawbreaker she and her K-9 partner find, Megan is building a case for prosecution, all while Brigit has her nose to the ground for a murderer…