A Trip with Trouble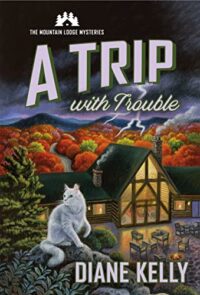 About the Book
When the ladies of the Dangerous Curves Motorcycle Club take over the Mountaintop Lodge for their annual autumn ride along the Blue Ridge Parkway, Misty Murphy couldn't be more thrilled. Every room is full and the adventurous women couldn't be more entertaining. The ladies even invite Misty and her assistant Brynn to join them on a ride to admire the colorful fall foliage. Hotel handyman Rocky Crowder is happy to keep an eye on the lodge for the day, and the ladies set out for a fun ride on the scenic road.
The skies are clear, the air is crisp, and the leaves are gorgeous. The women are having the time of their lives, stopping to enjoy the landmarks and vistas along the route. But what starts as a perfect ride turns worrisome when the tail gunner – the last rider in their group – fails to show up at the Craggy Gardens overlook.
Cell phone service is spotty in the remote, mountainous area, and the group is unable to connect with their friend. Might the missing woman have simply run out of gas? Could a downed tree near Mount Mitchell have forced the missing woman to take a detour or turn back? Has she lost control of her motorcycle on one of the curvy peaks and gone over the edge? Or is something far more sinister afoot?
The ladies are determined to locate their ride or die, and Misty is equally determined to help them. But will they be able to solve the mystery when the scenic route seems intent on hiding its secrets?