Where to Find Diane
01/20/2014: ONLINE TAX WORKSHOP FOR WRITERS AT SAVVY AUTHORS
Are you a writer or aspiring writer who needs information on taxes related to your writing business? Join Diane as she teaches her "Death and Taxes" workshop at Savvy Authors, beginning January, 20th.  Details at: 
http://ce.savvyauthors.com/index.cfm?fuseaction=Calendar.eventDetail&eventId=1806&pageId=489
02/08/2014: PFLUGERVILLE, TEXAS ROMANCE READERS' SOCIAL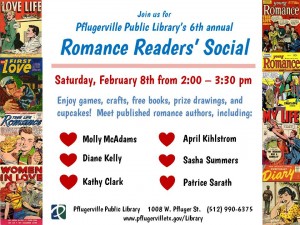 Join Diane and other romance authors for a Romance Readers' Social on Saturday, February 8th from 2:00 – 3:30. Fun, prizes, and more – just in time for Valentine's Day! Details at:
http://tx-pflugerville3.civicplus.com/Calendar.aspx?EID=13695&month=2&year=2014&day=8&calType=0
03/15/2014: ARLINGTON, TEXAS – WRITERS' PANEL AT BARNES & NOBLE PARKS MALL STORE
Join Diane and other authors for a day-long writers' event! The event will run from 10:00 – 4:00, with Diane and the other mystery writers being featured at 2:00. Learn writing tips and the inside scoop on the publishing industry.
Store info here: http://store-locator.barnesandnoble.com/store/2342
04/26/2014: MILWAUKEE, WISCONSIN – BARBARA VEY READER APPRECIATION LUNCHEON
Join Diane and many other authors for the Barbara Vey Reader Appreciation Lunch, featuring keynote speaker Debbie Macomber!  10 – 3 on Saturday, April 26th.  Prizes, goody bags, and lots of fun!  Details and ticket information at:  http://www.barbaraveyreaders.com/