DIANE'S LATEST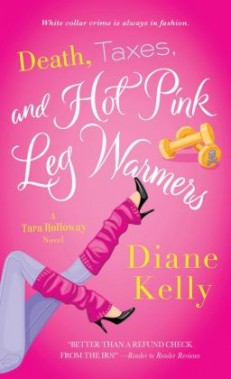 It's bad enough that Tara has to go on trial against the mortgage-frauding "Tennis Racketeers" who cheated banks and homeowners out of millions in between doubles matches. Now she has to go undercover—in a strip club—to strip the sleazeball owner of his indeed illegal livelihood. At least she's working as a bookkeeper, not a pole dancer. And who needs tips when her undercover crush, Special Agent Nick, is the club's bodyguard?
With so many hot bodies on display, Tara agrees to join her boss, Lu "the Lobo" Lobozinski, in her daily workouts at the Y. Lu's on a health kick after recovering from cancer, and she's pulled her leotards, tights, and hot-pink leg warmers out of mothballs. Which is okay with Tara. If she hopes to put Mr. Geils behind bars, grab the tennis boys by the balls, and lock lips with the unsuspecting Nick, she needs to be in the best shape of her life…
ON SALE 06/04/2013
WANT MORE DIANE?

Want Diane to sign your ebook? Request an Authorgraph.
Watch Diane's television debut on "Conversations Cafe".
In a book club? Diane loves to Skype with book clubs! Contact her to set-up a time to chat.
Read Diane's interview with International Thriller Writers.
Visit the appearances page to find out where you can see her in person!
Diane is a nationally recognized speaker and would love to present one of her workshops at your group's conference or monthly meeting. Additionally, she blogs with her fellow "Killer Fictionistas" at the Killer Fiction Blog and with her fellow 2009 Golden Heart Finalists at the Ruby Slippered Sisterhood.
Diane loves to hear from readers! Contact Diane by email, or follow her on Twitter!