DIANE'S LATEST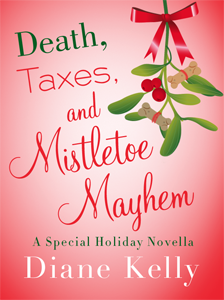 Christmas is fast approaching when IRS Special Agent Tara is assigned a new case involving a jewelry wholesaler who's repeatedly claimed large theft losses on her tax returns. Was Nadine Gramercy really robbed, or were the thefts a mere ruse to pocket tax-free profits? Tara believes Nadine belongs at the top of Santa's "naughty" list. Her investigation takes her to Chisholm Trail mall, where she meets Fort Worth Police Officer Megan Luz and her fluffy K-9 partner, Brigit. Though Megan believes Tara is barking up the wrong tree, she agrees to provide backup if a bust goes down. Moreover, they decide to team up as matchmakers to find love for Chris Rasmussen, a pediatric nurse who moonlights at the mall playing Santa Claus. Chris has a warm heart and a body that's hot enough to melt to the polar ice caps. This sexy-yet-sad shopping mall Santa was recently dumped by his fickle fiancée, leaving the not-so-old elf more jilted than jolly. Can Tara and Megan solve the crime…and lift Santa's spirits in time for Christmas?
ON SALE 10/29/2013
WANT MORE DIANE?

Want Diane to sign your ebook? Request an Authorgraph.
Watch Diane's television debut on "Conversations Cafe".
In a book club? Diane loves to Skype with book clubs! Contact her to set-up a time to chat.
Read Diane's interview with International Thriller Writers.
Visit the appearances page to find out where you can see her in person!
Diane is a nationally recognized speaker and would love to present one of her workshops at your group's conference or monthly meeting. Additionally, she blogs with her fellow "Killer Fictionistas" at the Killer Fiction Blog and with her fellow 2009 Golden Heart Finalists at the Ruby Slippered Sisterhood.
Diane loves to hear from readers! Contact Diane by email, or follow her on Twitter!