ICE, ICE Baby!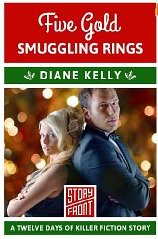 Just released!
Heat up your holidays with some spicy romance and heart-pounding suspense!
After receiving a tip from an unnamed source, rookie ICE agent Angelika Dietrich gets her first real case. Things quickly steam up when she's paired with her secret crush, Javier Carrasco, a veteran agent as sexy as he is stoic. Javier won't be an easy nut to crack, but if anyone can do it, it's the bold, brassy, six-foot-one Angelika—an ass-kicking tornado of a woman. With a wicked sense of humor and a heart as big as her size-eleven stilettos, Angelika will have you cheering for her to capture the bad guys and Javier's heart.
This novella is available exclusively for Amazon Kindle at only $1.99!
http://www.amazon.com/Five-Gold-Smuggling-Rings-Christmas-ebook/dp/B00GMTVZZC/ref=sr_1_14?ie=UTF8&qid=1386197757&sr=8-14&keywords=diane+kelly

Join in the Fun!
Join in the fun today at Dru's Book Musings as Lu Lobozinski, the beehive-wearing boss of the IRS, talks about what it's like to run the office! http://notesfromme.wordpress.com/

Writing (and Reading!) Without a Net – Why We Love Over-the-Top Characters
Join in the discussion as I blog today at Savvy Authors:
https://ce.savvyauthors.com/index.cfm?fuseaction=Feature.showFeature&CategoryID=41&FeatureID=384

It's Release Day!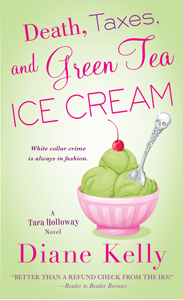 It's release day for book #6 in the Tara Holloway series!  Woo hoo! 
  Reviews are rolling in.  Check out this one in the Criminal Element: http://www.criminalelement.com/blogs/2013/09/fresh-meat-death-taxes-green-tea-ice-cream-by-diane-kelly-tara-holloway-funny-katrina-niidas-holm?utm_source=feedburner&utm_medium=feed&utm_campaign=Feed%3A+criminalelementpartial+(CE%3A+Front+Page+Partial)
 Happy reading!

Authors on the Air! Tune In!
Tune in to Authors on the Air to hear my interview!  Thanks so much to host Pam Stack for featuring me on her show.  You can also check the archives for links to interviews with your other favorite authors. 
http://authorsontheair.com/radio-show/aota-meets-womens-lit-writer-diane-kelly/

Radio Interview Monday, June 24th at 1:00 PM Central Time!
Join Diane and host Pam Stack at Authors on the Air for a fun interview and book talk!  Call in with your questions! http://www.blogtalkradio.com/authorsontheair/2013/06/24/aota-meets-womens-lit-writer-diane-kelley

What Makes a Great Summer Beach Read?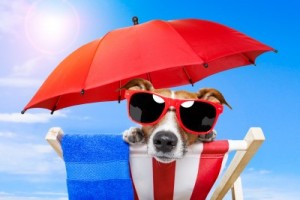 It's nearly Memorial Day, and that means summer beach reading will soon be here! 
Funny, isn't it, how readers often refer to particular books as a "good beach read," yet there is no "beach reads" section in  the bookstore.  I suppose this means that everyone's idea of what makes a good book to read on a vacation varies from reader to reader. Some readers enjoy books that take them to tropical locales for thrilling car chases and steamy nights with an undercover CIA operative. Others enjoy a summertime romance, falling in love on a blanket under the 4th of July fireworks. Others are looking for a light-hearted romp, literary cotton candy that leaves a reader feeling like they've had a fun treat.
I tend to be very lazy when I'm on vacation, and the books I take along reflect that fact. No books that require deep thought or critical analysis make their way into my beach bag. My brain wants a vacation, too!  A funny mystery or a romantic comedy makes the perfect beach read for me. Occasionally I'll pick up a classic to feel that I've made some cultural headway while working on my tan.  
What about you? What makes a particular book a good "beach read" to you and why?  Share your thoughts for a chance to win one of five copies of my June 4th release – Death, Taxes, and Hot Pink Leg Warmers!  Winners will be announced on June 4th.

Win a Kindle, Nook, or Books!
Come on over to Christie Craig's blog and see if you can match me to my childhood photo, along with other authors and their baby pics!  Hint – my photo is something to "buzz" about . . . : )
http://christie-craig.com/blog/

Food, fun, and books in Houston!
Tickets are going fast!  Join me and authors Christie Craig, DiAnn Mills, and Susan C. Muller for dinner, fun, and book talk.  Dinner in Houston, Texas on May 1st.  Details and tickets at: http://www.katybooks.com/event/dinner-authors

Kiss and Thrill!
I made $ thru tax evasion! ; )  Watch my interview with Diana Belchase today at http://kissandthrill.com/ and http://dianabelchase.wordpress.com/   Big thanks to Diana for hosting me!